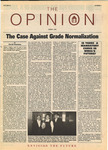 Description
Selected Table of Contents
The Case Against Grade Normalization / Damiano, David
Batson Inquiry for the Striking of a Judge / Wicka, James
Attention All WMCL Students: Incorrect Grades Have Been Posted and Recorded in Student Transcripts! / Anonymous
The Practice of Law: Occupational Hazards / Wagner, Richard
Memo: Mandatory Grading Curve / Pannier, Russ; Hamilton, Neil
Truth or Consequences / Castledine, David L.
Thoughts on our Two-Party System / King, Mark A.
Appointment Committee's Work is Done / Gerlach, Charles S.
Editorial Board
Ranallo, Traci M.; Hathaway, William D.; Mayer, Jo; Rechlitz, Jennifer
Publication Date
Spring 1996
Publisher
Student Bar Association William Mitchell College of Law
Recommended Citation
William Mitchell College of Law, "The Opinion – Volume 40, No. 3, Spring 1996" (1996). The Opinion. 147.
https://open.mitchellhamline.edu/the-opinion/147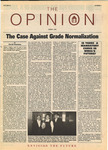 COinS