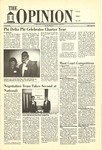 Description
Selected Table of Contents
Phi Delta Phil Celebrates Charter Year / Lee, Patricia
Moot Court Competitions / Evans, Henry K.
The Michigan Suicide Statute: Constitutional Questions / Evans, Henry K.
A Personal Interview with Professor Daniel S. Kleinberger / Saldivar, M.R.
Indict the System? No, Indict the Press / Skelton, Margie
A Difficult Clarion Call for Voluntary Admissions Cuts / Globus, Mark
Local Artist Fries Burger / Bachman, John
Debt is the Real Crisis / Hoey, Colleen A.
Editorial Board
Evans, Henry; Muellner, Donna; Sandberg, Tami; Skelton, Margie
Publisher
Student Bar Association of William Mitchell College of Law
Recommended Citation
William Mitchell College of Law, "The Opinion – Volume 36, No. 5, May 1993" (1993). The Opinion. 130.
https://open.mitchellhamline.edu/the-opinion/130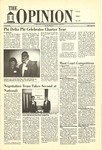 COinS