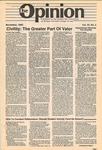 Description
Table of Contents
Civility: The Greater Part of Valor / Linda Theis Thrasher
SBA to Conduct Referendum: Should Student Activity Fund be Raised? / Deane M. Roe
New Mitchell Trustee Debate / Michael Dees; Pamela Boney; William L. Dooley, Jr.; Hope Jensen; James F. Hogg
Diversity Committee Seeks Input / Edie Michalski; Walter Lehman; Eric Janus
What is This "Federalist Society?" An Introduction to the WMCL Federalist Society / Publius*
Political Parties Need a Cable Station to Call Their Own / David Lillehaug; Ross Corson
One Last Letter to the Editor / Lowell J. Satre, Jr.
Editorial Board
Richard J. Olsen; Bob Christensen; Karl Green; M O'Sullivan Kane; Eric Douglas Larson; Cathryn Saylor Peterson; Tony Schertler; Tamara Tegeler; Mike Broback
Publisher
Student Bar Association of William Mitchell College of Law
Recommended Citation
William Mitchell College of Law, "The Opinion – Volume 33, No. 3, November 1990" (1990). The Opinion. 113.
https://open.mitchellhamline.edu/the-opinion/113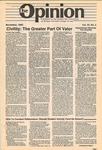 COinS